Webster's dictionary defines hibernation as: to pass the winter in a torpid or resting state. Well, as much as I would love to curl up in a torpid state like this little guy for 4 months, apparently society deems that as "unacceptable."
Luckily for me, the frigid temps today are "forcing" me to have a hibernation day. Normally, I couldn't even try to see a negative in a day which I get to spend entirely in sweatpants; however, early this morning, I remembered that this weekend, I finished the last 9 of the 48 cookies my mom sent back with me after Christmas (literally 48… we have a cookie problem…).
Hibernation = no gym = Christmas cookie hangover and self-loathing.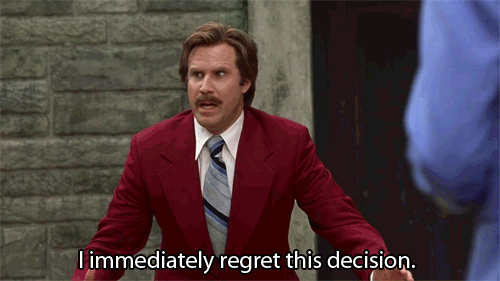 But all is not lost! Thankfully, since I live in Chicago, coming up with excuses to not leave my apartment in the winter is second nature to me ("I'm sure the buses aren't even running since it's so cold…" "I'll clearly get frost bite & then not be able to go to work & then get fired. This is a career decision…" "I spent all of spring, summer and fall outside. I'm sure my apartment misses me…" etc.). This means that I have a lot of experience working out in my apartment on these cold winter days.
For anyone else either forced or willingly in hibernation this week/ winter, here is my guide to…
Working Out In My Apartment
Equipment
A lot of the apartment workouts I do only require your body weight, but there are a few which require some equipment. The equipment I have in my apartment is: free weights, medicine ball, resistance band and mat. All of these can be picked up at any sports store or even your local Target.
Workouts
I always have to rely on someone else to create my workout for me. If I created my workout for myself, it would consist of 5 push-ups and a lot of lying on the mat. Therefore, I have my go-to sources for workouts.
Nike Training Club App
This app is available on iPhone and Android and it is amazing. You can choose from Get Lean, Get Toned, Get Strong and Get Focused for your workout goal. From there you can choose any level from Beginner to Advanced, and it will give you a list of workout options ranging from 15 minutes to 45 minutes. Before you even get into the workout specifics, the app will let you know what equipment you need. That way you'll know if you need to move on to the next workout if you don't have the proper equipment. There are even workouts submitted by specific athletes so you can pretend that after you do the workout, you'll be as fit as Hope Solo, Allyson Felix or Paula Radcliffe (at least that's what I do).
This is an incredible app and is definitely worth the download! Oh, and it's FREE!
Pinterest
"…But wait, Pinterest is where I found all of those yummy cookie recipes. Isn't that the opposite of what I'm looking for?"
Touché, but Pinterest can also be an excellent source for workouts! I used to have a horrible habit of getting into workout routines where I did the same workout over and over again, forgetting that anything else exists. Pinterest is great for curing this problem because you can go to the Health and Fitness section and find workouts from tons of different sources. It's like being able to work out with a new trainer each time you log in.
Some of my favorite fitness sites which I found on Pinterest:
Back on Pointe: College student's journey to get lean. She has monthly workout calendars and plenty of workouts to choose from.
Fitsugar: Great site full of workouts, fitness/ health related articles, and healthy recipes
Pumps and Iron: I love this girl. She's funny and in amazing shape. She has a TON of workouts which require little to no equipment. So if you are short on equipment, look here!
Tone It Up: Don't let their inhumanly perfect models turn you away. Let's be honest, no one looks that good when they workout, and if they do, they're doing something wrong. Anywho, they have some great workouts and recipes.
Tips
Don't overdo it – You are at home, not in the gym, so there is no one to help you if you faint or get hurt. If you start to feel light headed, get some water and take a rest. Be sure to check with a doc before you start any new workout routine.
Be quiet – Living in an apartment means there's usually someone living above, below and beside you. Despite the fact that I would like everyone in the world to know that instead of molding into my couch watching Netflix in my hibernation, I am working out, I'm not sure anyone in the world really cares. Minimize loud music and exercises with a ton of jumping to keep your neighbors your friends.
Be proud and have fun – My goodness! Even Webster said that hibernation is about rest, and look at you! Working out and such. Serious kudos to you!
Now go celebrate your workout, enjoy your next meal without guilt and secretly wish you had more cookies…
What are your favorite apartment workouts? Any sites that I didn't mention?